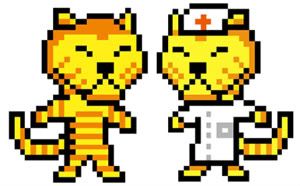 A lil' explanation of what is coming in september from the
Tigersushi
family :
"To celebrate our 10 years we decided to launch a series of split 7inches in association with our best musical friends : the More G.D.M. Collabs. Each release of the series will be a limited edition (200 copies) split 7inch with one Tigersushi side and one "guest" side. For the first installment of the More G.D.M. COLLABS series we teamed up with our long-time friends Optimo who released their infamous compilation How to Kill The DJ pt 2 on Kill The DJ / Tigersushi back in 2004! Both tracks here are super hard-to-find minimal synth gems. We call them gems because in our opinion they go way beyond the genre and reach a timeless classic status. We chose Solid Space's Tenth Planet on our Tigersushi side. A track released in 1982 on cassette only by this obscure band from the UK. Optimo chose John Bender, another super obscure cult musician from Cincinnati."
If you follow Tim's Sweeney's
Beats In Space
and have heard the stunning Ivan Smagghe's mix you'd propably noticed that Kill the Dj (my other fetish label) is going to release a serie of tiny 7" in the next months.
I heard too about Tullio de Piscopo's hit Bajon being remixed by
Isoul8
and the mighty house king of Detroit :
Theo Parrish
! Probably in september... stay tuned